The four economic pillars of the Queensland economy will experience significant benefit from 3dQLD reform.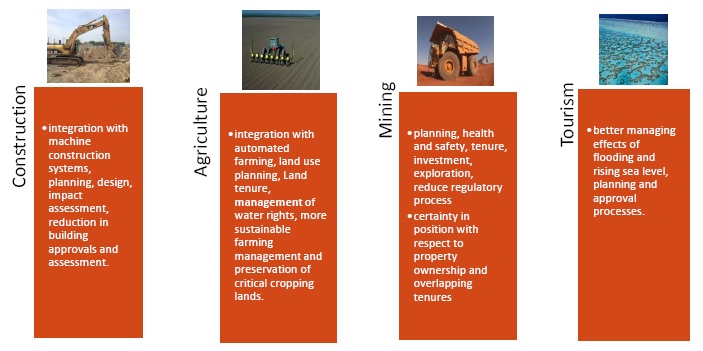 The current uptake of spatial information in these sectors of the economy is high. New opportunities will emerge in these areas of the economy as trusted sources of spatial data are shared through the 3dQLD vision. Spatial information will become more readily available and far more useful than it is currently for those who invest in spatial information technology.
Empowerment of business and the community in the use of spatial information will see enhanced productivity and the greatest return on investment. Collectively, practicing land surveyors and the Department of Natural Resources and Mines (DNRM) will seek the input of various stakeholders in the Queensland economy to accommodate the future need of these sectors in the reform process.
The benefits of 3dQLD will span all state and local government departments through platforms such as Google™ Globe. It is possible to envisage a future where the enhanced 3d cadastre will be able to be accessed by anyone in the community with access to a desktop computer or portable mobile device.
For the community 3dQLD means:
Providing three dimensional certainty or point of truth at a local level for all forms of spatial data.
Accelerated improvement in the accuracy and usefulness of the current Digital Cadastral Data Base (DCDB).
Efficiency for the consumer by reducing duplication with current survey processes.
An accurate infrastructure for simulation of the real world through spatial information technology.
A more open and transparent system that consumers can visualise and understand, and that interacts with technology they are familiar with such as Google earth and global navigation systems.
Retaining the integrity and security of the current land boundary system.
For land surveying and spatial professionals 3dQLD means:
Facilitating a refinement of current practice and thinking in survey methodology.
Creating a new sense of purpose to enhance our state's cadastre in the 21st century.
Modernising our approach to how land surveying professionals acquire and present information.
Enabling spatial professionals to become the custodians of a modern cadastral database.
Playing a leading role in assisting the community in the digital simulation of the land and the built environment.
Facilitating improvements in data management and the mainstream use of spatial information in the modern digital world.