News releases can be found below that relate to the 3dQLD vision for cadastral improvement across Queensland.
August 2018
The 3DQLD task force successfully completed Phase B of the 3DQLD Roadmap with the release of the Phase B- Development Phase report. Public industry briefing is currently underway. The task force is seeking further feedback and investment to assist in delivering Phase C- Pilot Project phase of the Roadmap.
16 November 2015
The taskforce is open to submissions from suitably qualified consultants to provide consultancy services, through the combined industry government 3DQLD Taskforce, primarily for the development of a RoadMap to guide development of a 3D cadastre for Queensland as a key underpinning element of the evolving digital economy. The consultancy will also include a range of other reporting and management tasks to support the 3D Taskforce. Interested consultants can download relevant information here (3DQLD RoadMap Brief for Tender ) or obtain a copy by emailing Peter Sippel at eo@sbq.com.au.
18 December 2015.
To assist proponents in responding to this invitation a briefing will be held at 3.00pm on Tuesday 24th November 2015 at the Conference Room (Albert Street) level 12,61 Mary Street, Brisbane CBD. To confirm your attendance at this meeting please direct confirmation by email to 3dQld at email eo@sbq.com.au.
1 June 2015
The 3DQld Taskforce has been generously supported by the private sector through the Spatial Innovation Foundation (SIF) to supply seed funding for suitably qualified consultants to deliver and industry Roadmap for the realisation of the 3d QLD vision( 150413 RoadMap Brief )
In a historic move for the reform, seed funding for part of the critical first development phase has been raised by the private sector through SIF . The 3DQld task force is  actively seeking further sponsorship to match seed funding by key stakeholders across state and local government as well as private industry groups to realise future phases, so to accelerate the benefits of the reform, fully realise all phases of the roadmap and maintain the document.
27 November 2013
Industry workshop 3dQLD industry workshop held at the LandCentre Brisbane, attended by 30 industry professional across surveying,agriculture, construction, development, local and state government facilitated by David Platt.
19 September 2013
Members of the 3dQLD taskforce met with the Honourable Andrew Cripps MP – State Minister for Natural Resources and Mines at Parliament House, Brisbane to discuss wider state government support of the 3dQLD vision.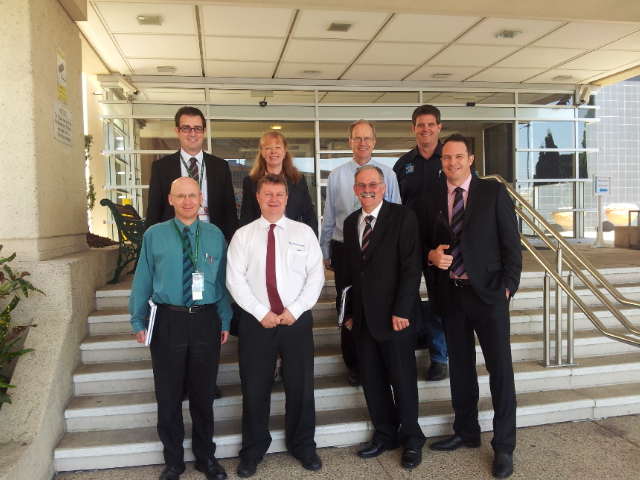 May 2013
The 3dQLD discussion paper appears as the feature article in the SSSI QLD publication: Spatial Science Queensland May 2013